Blue Flame GT3000 Big Shot Micro Torch - Operating Instructions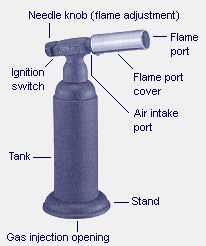 Parts Identification
Familiarize yourself with the parts of your GT3000 Micro Torch before operating it.

It should be handled by literate adults, or under constant adult supervision.

It is essential that the following operating procedures be read and understood before attempting to light or use the Blue Flame GT3000 Micro Torch.

These procedures must be carefully observed in order to promote safe usage.
Igniting and Shutting-Off your Blue Flame GT3000 Micro Torch
Remove the protective cap from the trigger and the gas control knob of your GT 3000 Micro Torch.

Slowly turn the gas flow control knob to the left (Counter Clock Wise) and the butane gas will start to flow. For your safety, only turn the know about a quarter turn.

Push the ignition switch forward and the gas will be ignited electronically with a snapping sound.

For shut-off, turn the gasflow control or needle knob to the right (Clock Wise) and close it securely.
Thermal Power and Flame Control of your Blue Flame GT3000 Micro Torch
Adjust the thermal power level and the lenght of the flame to suit usage objectives.

The highest temperature attainable will be about 1,300 degrees Celsius.

The gas control or needle knob can be used to regulate the flame.

After ignition, do not leave the GT3000 Hot Shot Micro Torch burning longer than 20 to 30 minutes continously.

Refilling your Blue Flame GT3000 Micro Torch
For detailed instruction, refer to our Refilling Section.

The filling of the GT3000 normally takes about 30 seconds.
Safety and Handling Precautions regarding the Blue Flame GT3000 Micro Torch
The flame port will get extremely hot instantly. Do not touch.