Blue Flame PB207 Micro Pocket Torch - Operating Instructions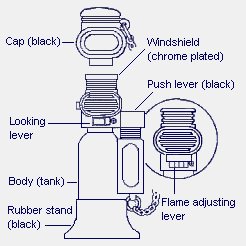 Parts Identification
Familiarize yourself with the parts of your PB207 Micro Pocket Torch before operating it.

It should be handled by literate adults, or under constant adult supervision.

It is essential that the following operating procedures be read and understood before attempting to light or use the Blue Flame PB207 Micro Pocket Torch.

These procedures must be carefully observed in order to promote safe usage.
Igniting and Shutting-Off the Blue Flame PB207 Pocket Torch

Normal operation
Remove the protective cap and press the push lever down to ignite the blue flame of your PB 207 Pocket Torch.

Release the lever to extinghuish.
Continues burning with the blue flame locked
For continious burning the blue flame, after ingition the flame can be locked by sliding the lock lever into the 'LOCK' position and release the push lever.

The flame can be extinguished by sliding the locking lever backwards.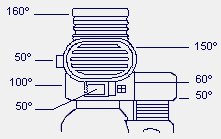 Thermal Power and Flame Control of your Blue Flame PB207 Micro pocket Torch
The flame can be minimally adjusted in height by changing the setting of the flame adjusting lever.

After ignition, do not leave the PB207 Micro Pocket Torch burning longer than 10 minutes continously. Please study the heat distribution on each part 10 minutes after ignition.
Refilling your Blue Flame PB207 Micro Pocket Torch
For detailed instruction, refer to our Refilling Section.
Safety and Handling Precautions regarding the Blue Flame PB207 Micro Pocket Torch
Keep away from face when igniting